 Back to News
The golden thread of changing hearts and minds: a founder's story
In 2022, spinning wheels were set in motion and Communities for Nature was born. But where did it come from? Here we take a look at the journey of our founder, Rhoda Avanzado Phillips, and how all roads led to Communities for Nature.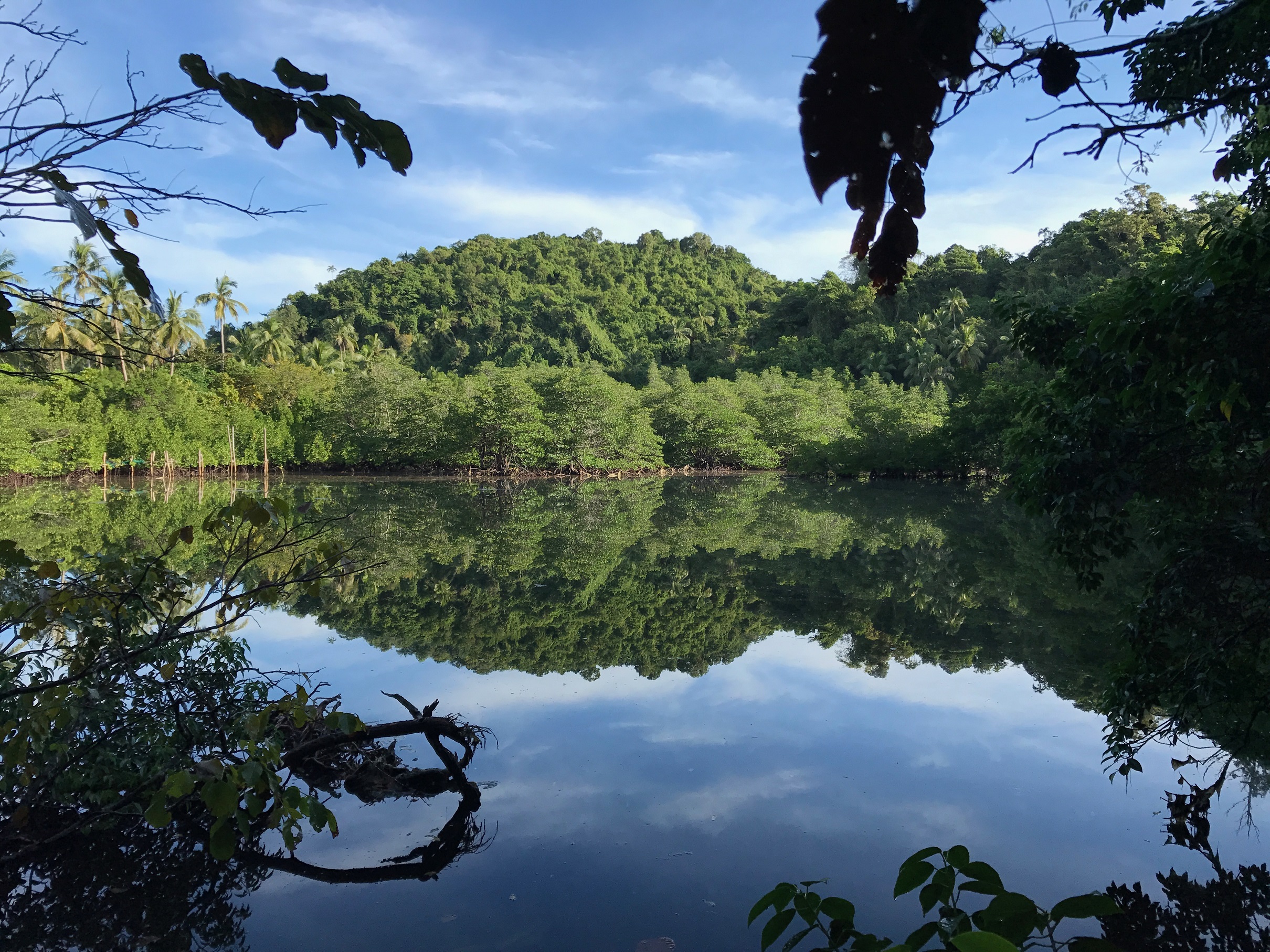 Rhoda's environmental journey began in 2001, after a term banking in the Philippines when, looking for a new challenge and the chance to make a difference for local communities and the planet, she secured the role of Island Manager and Education Officer for the Philippine Reef and Rainforest Conservation Foundation Inc (PRRCFI) on Danjugan Island, a marine sanctuary that had been saved just years before in 1994.
The island had an immeasurable impact on Rhoda – its coral reefs, mangrove forests, white-bellied sea eagles, and community. For example, it was on Danjugan Rhoda first met Gerry Ledesma, Kaila Trebol and Sef Carandang, each with complementary skills, passion and vision, and now founding members of the Communities for Nature board.
At this stage, Rhoda was already inspired to help transform the culture of PRRCFI, define its vision and reset the organisation as a sustainable and strategic NGO. As the island evolved from a scientific hub into an award-winning marine protected area, eco-tourism destination and centre of community engagement, some of Rhoda's personal highlights of PRRCFI's achievements include helping to put over 4,000 students through marine camps. An alumnus and one of PRRCFI's local fisheries, forestry and agriculture scholars was even recognised by Michelle Obama for her efforts in conservation. This core value of intergenerational engagement is something Rhoda carries with her today, alongside her belief in the power of diverse leadership, whether gender, class or otherwise.
Hungry for new horizons, Rhoda relocated to London to take on an MBA with a focus on culture change, where for over 15 years she led on a number of transformation programmes for Westminster City Council, and founded a management consultancy focusing on identifying and nurturing talent, called LDN.
Rhoda maintained her connection with Danjugan Island throughout, acting as a Board Trustee for the PRRCFI. But this wasn't enough. She recognised the golden thread of supporting talent and driving change in hearts and minds that ran throughout her career, and set her sights on using her experiences for something bigger. Her belief that, given the right platform and support, people can achieve incredible things and actualise long-held ambitions drove her to create Communities for Nature: a facilitator to channel the talents and energies of disparate groups across continents into action helping to build a sustainable future for all.
Rhoda recognised the potential in her position and experience to help businesses think beyond their borders for trusted, effective environmental restoration and community engagement projects. She could take PRRCFI's tried and tested community-led model and connect enthusiastic corporate supporters with those on the front line of conservation and sustainable development, to co-create solutions to challenges created by the climate and biodiversity crises.
It was out of witnessing PRRCFI grow and evolve and welcome new collaborators that Communities for Nature's model was born: each partnership is co-designed by community and partner. It's not just a blind donation, or best boast for corporate comms. With equity at heart, each voice is valued in a Communities for Nature partnership, supporter and community alike. Communities receive funding channeled where they need it the most and corporates have the chance to build relationships and share their skills with their partnered community, whilst being assured that their financial contribution is effecting real environmental change.
Rhoda describes her relationship with Danjugan as a love story, and it led to Communities for Nature. What began on a small marine sanctuary off the coast of Bulata in the Philippines is already creating change and building lasting relationships across the thousands of miles between London and Danjugan Island, through Actions for Communities and the Environment, Communities for Nature's first partnership between LMAX Group and PRRCFI.
In time, Communities for Nature hopes to extend its model to support communities around the world, but if you are interested in exploring a Communities for Nature partnership there is no need to wait. Your love story with Danjugan can begin today. Be a part of building a sustainable future for all.