 Back to News
Creating space for citizen science
ACE Science Officer Franz Anthony Alejano tells us about how the partnership is working to put citizen science into practice around Danjugan Island.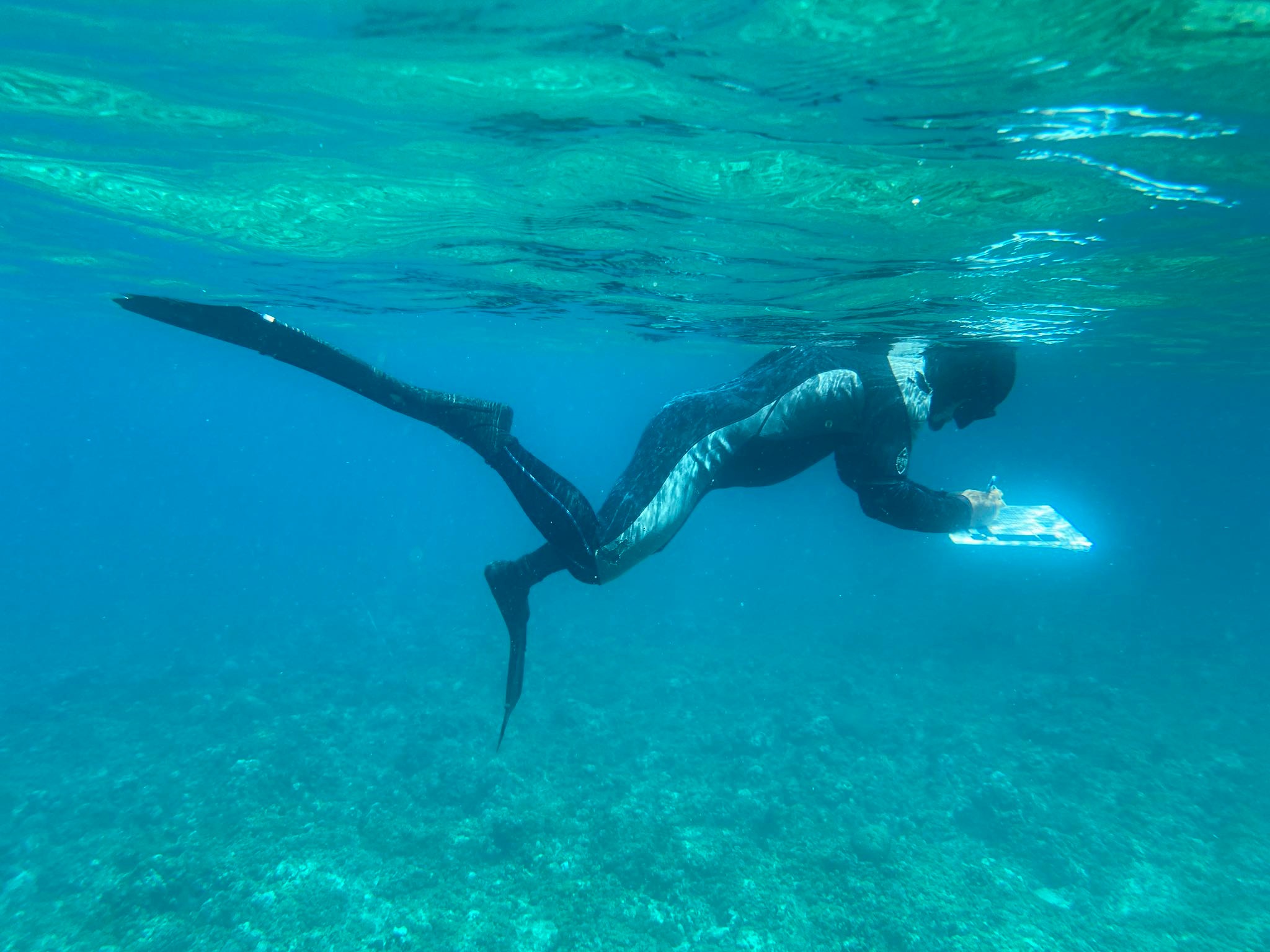 ACE Science Officer Franz Anthony Alejano tells us about how the partnership is working to put citizen science into practice around Danjugan Island.
Community engagement is a core principle running through all the initiatives developed by the Actions for Communities and Environment (ACE) partnership we have established between PRRCFI and LMAX Group.
When it comes to environmental education and community capacity building, this runs to a familiar format. But what does this mean when it comes to the science of conservation?
Recently, we were fortunate enough to sit down with ACE's Danjugan Island-based Science Officer, Franz Anthony Alejano to learn more about 'Citizen Science'.
He recently took part in training on MPA-FishMApp, an exciting program which makes it straightforward to gather data on the size of local fish populations, and compare what is going on inside and outside the local Marine Protected Area.
With this training under their belts, Franz and his colleagues can now begin to harness the power of citizen science, by passing on their knowledge of MPA-FishMApp to local people, building a team of citizen scientists to operate in Danjugan's waters.
What is citizen science, and what are the benefits of using citizen scientists?
For me, citizen science is a valuable tool that can help us build communities that collaborate to find out more about their home. Any program or project that engages the public in scientific research uses the citizen science approach.
There are so many benefits. Because it encourages mass participation there is increased potential for data collection and analysis capacity. Then there is the chance of improving scientific literacy amongst the public and greater community engagement. All of this, and of course the fact that we are able to enhance the impact of our research.
Can you tell us about the training you received to put citizen science into practice around Danjugan?
PRRCFI is a member of the Southern Negros Coastal Development and Management Council (SNCDMC) alongside a number of different local government units working under the Municipal Agriculture Office and Environmental and Natural Resources Office. The MPA-FishMApp training was organized for the Council and three other PRRCFI staff members and I joined the council at the workshop in Sipalay City.
At the training, we were taken through how to use MPA-FishMApp which is basically a tool that allows citizen scientists to quickly and efficiently record data on fish species. It has a simple interface allowing users to enter and store information on 21 reef fish and two invertebrate species groups. Using built in algorithms MPA-FishMApp can then generate data visualizations to show trends in fish density and biomass, and changes over time.
Now we have had this training we will be able to upskill a wider group of citizen scientists to get involved with the next Fish Visual Census.
You are doing this work as part of the local reef monitoring team. Why is it important to monitor the reef and marine environment around Danjugan Island? How will the data you gather be used?
Monitoring the reef and marine environment around Danjugan Island is important to assess the health of the reef, identify threats, and take steps to protect it.
Monitoring can also help to track the progress of our conservation efforts. The first data we gathered can be used as a baseline for ongoing annual fish monitoring and inform the development of conservation efforts in the future.
What are the timings for the Fish Visual Census?
We conducted the first Fish Visual Census in April 2023 in identified sites around the island and the fished sites across the mainland in Bulata, Cauayan. These will be the permanent monitoring sites that need to be surveyed every year by the team of citizen scientists we train up.
We understand the data is yet to be finalized but can you give us an impression of what you found doing the census?
It was pretty obvious that there were fewer fish in the fished sites than in the protected ones. The fish we saw the most were triggerfishes, surgeonfishes, parrotfishes, butterflyfishes and damselfishes. It was actually quite surprising for us to observe a good number of damselfish, especially in the fished sites, so it will be interesting to track the data that relates to this observation.
The survey work has happened as part of the ACE Project, the partnership between LMAX and PRRCFI brought together by Communities for Nature – how important is it to bring in funding and support for this type of project? What does it mean for the MPA, and wider efforts to protect the environment and improve biodiversity?
Reef monitoring is essential for the conservation of coral reefs, but it can be expensive at times. That's why it's important to bring in funding and support for this important work. This funding can help cover the costs of reef monitoring, such as equipment, training, and travel and it can make sure that reef monitoring programs are ongoing and sustainable.